"I love you, and it was really nice to meet you."
– Actual words shared between two of our newest Hoola-Fit Instructors after certifications were awarded on Sunday.
I feel the same way about each and every person who walked through our training room doors this weekend. It was such a cool melting pot of different ages, sexes, ethnicities and motivations for being present. We came together from different places because we have one powerful thing in common: hoop dance impacted our lives so much that we now feel called to share it with others. We started the weekend as strangers and ended as bonded allies.
This is the reason why live training weekends are so very special to me (Abby) and Master Trainer Heather. It's always our intention to empower a tribe of inspired hoop dance educators who make a difference in the lives of others.
Sure, Hoola-Fit is a fitness certification, but it's also SO MUCH MORE. Heather and I recognize that we have the privileged opportunity to help people bring hoop dance into their respective communities. This art form is transformational, and it has the ability to positively impact people's lives (it did for all of us). And for this reason, we want it to reach more people in more places. So, we're creating more joy spreaders (aka Play Professionals & Hoop Dance Teachers ;).
Without further ado, I'm excited to introduce you to our newest group of certified Hoola Fit Instructors…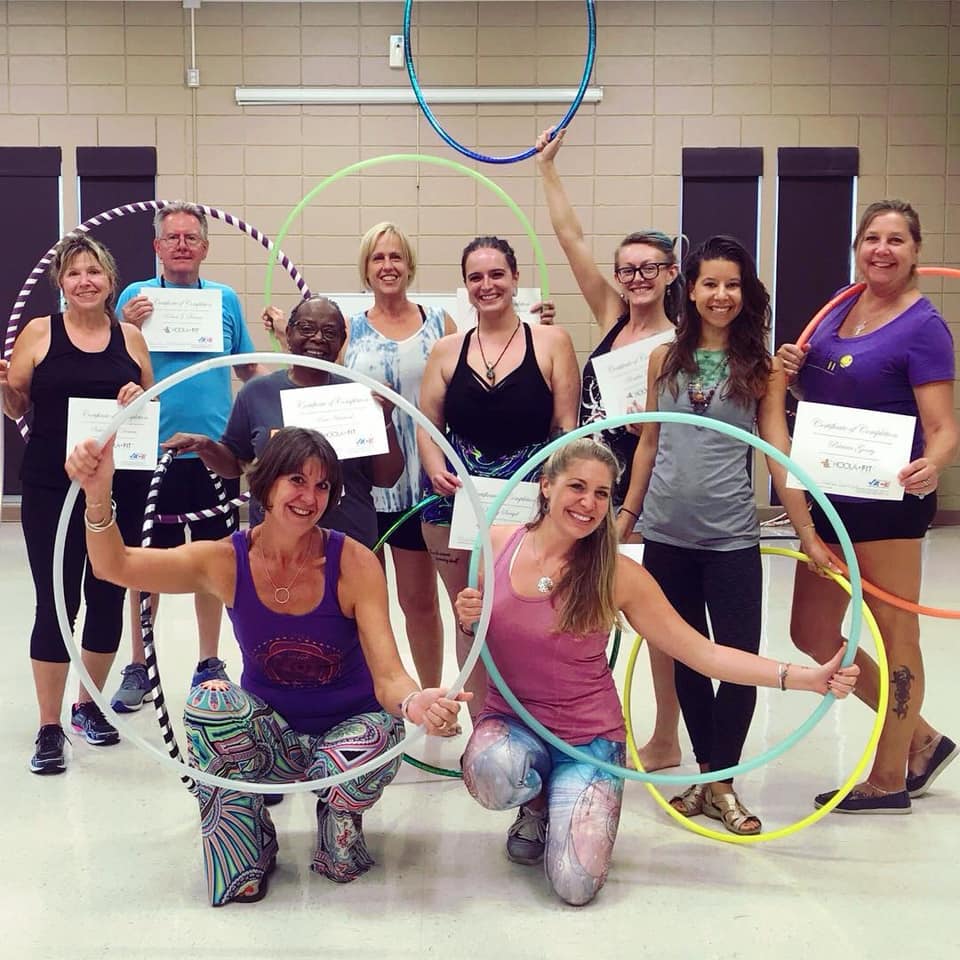 Bob and Val: A married couple of almost 40 years, they traveled to us from Tallahassee. I just love the fact that they've already brought hoop dance to their local YMCA and are looking to amp up their offerings in an even bigger way now. I can't wait to see how their classes grow and evolve following the training! This dynamic duo (both almost 70 years old I should add) sparked great conversations, and their enthusiasm for the art form is contagious. Bob also handcrafts the most beautiful wooden hoops imaginable. They're gorgeous pieces of art!
Tracy: She wins the "longest commute" award, after traveling to Florida from Connecticut. Tracy now holds three different hooping certifications, and there's no hiding it when you see her in action. Tracy is a patient, kind and well-versed instructor who definitely knows her stuff. Simply put: she's a FANTASTIC teacher who leads with ease. I'm hopeful that we'll be able to come her way next 🙂 Tracy was an absolute joy to have in the training!
Eva: Speaking of people who hold multiple hooping certifications, Eva and Tracy actually knew one another from a different teacher training that they'd both completed. It was so cool to see that connection/ realization unfold when they first saw each other on Saturday morning. Eva came to us from Georgia, and I just love her relaxed, chill vibe. When she took the stage to teach, I didn't want her to stop. She immediately puts people at ease and creates a safe space for learning… skills that are super valuable for leading hoop dance classes.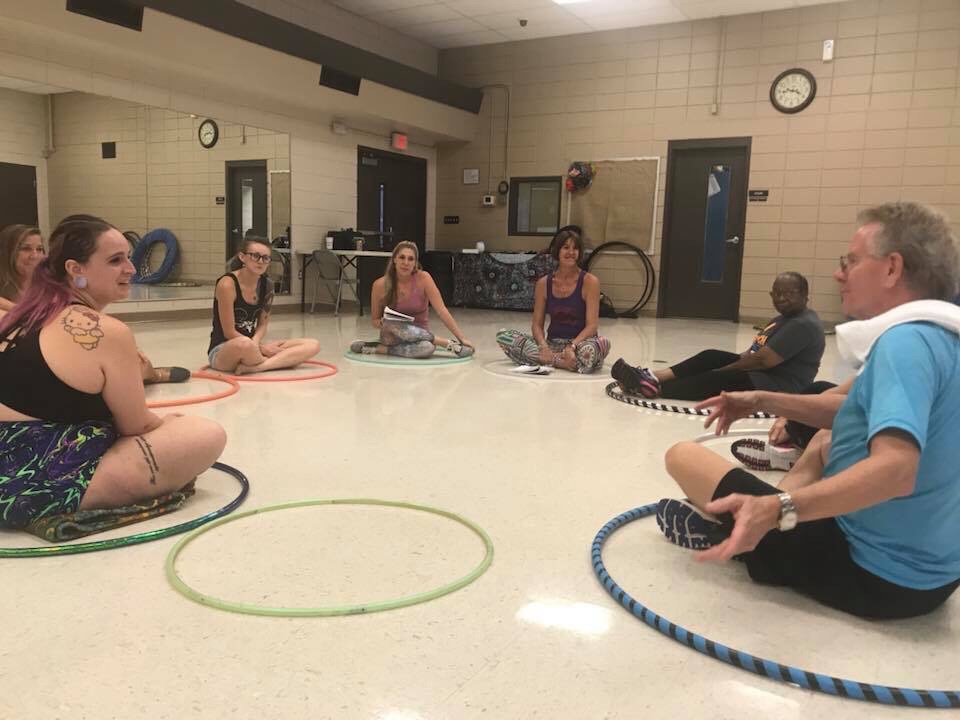 Kailey: This girl THRIVES under pressure, and there's a sweetness about her that's almost tangible. Kaylee can handle anything that comes her way, and I was so impressed by her quick thinking and natural ability to freestyle as a teacher. I'm hopeful that we helped to show her what a gift she has. Anyone who steps into her class is in for a treat. Being a teacher is in her blood.
Emilia: Caretaker. This word immediately comes to mind when I think of Emilia. She showed up on Saturday with a beautiful cacao tea offering for the group. She then helped to elevate the vibe by sharing essential oils. The peppermint definitely woke us up and got everyone going for a full day of learning. I've known Emilia (also a valued member of Hoola Monsters) for almost 5 years now, and I had no doubt that she'd rock this training. Therefore, I had a little fun with her by planting a "problem child" in the class while she was doing the movement part of her practicum. I was FLOORED by how well she handled the class disruptions. Emilia is going to be a wildly successful Hoola-Fit teacher. Festivals: get ready – she's coming to share her art & love of flow with  you, and hers is a workshop that you'll definitely want to add.
Trish: Fun Facilitator. Trish loves to play, and a smile immediately comes to my face when I think about her. Being a student in her class means that you're going to have one helluva time. It's actually impossible NOT to have fun when Trish is leading the class. Her voice, her smile, and her kindhearted nature captivate those fortunate enough to cross paths with her (this amazing woman trains guide dogs, too – how cool is that?!?!).  She was super helpful to me and Heather throughout the weekend also – from set up on Saturday morning, to break down on Sunday night. Thank you, Trish! We love you!
Rosalee: This beautiful soul! She walked in the room with blue dreads and a contagious smile, and I loved her from the start. She's been hooping for a long time, and I'm so excited that Rosalee is now ready to step into her power as a hoop dance educator. She has big plans for what she intends to create in her South Florida community, and we just love her enthusiasm! No doubt this one will THRIVE. A yoga teacher too, it's clear that finding flow has been a big part of her transformational journey. I love that she now intends to pay it forward by sharing her art.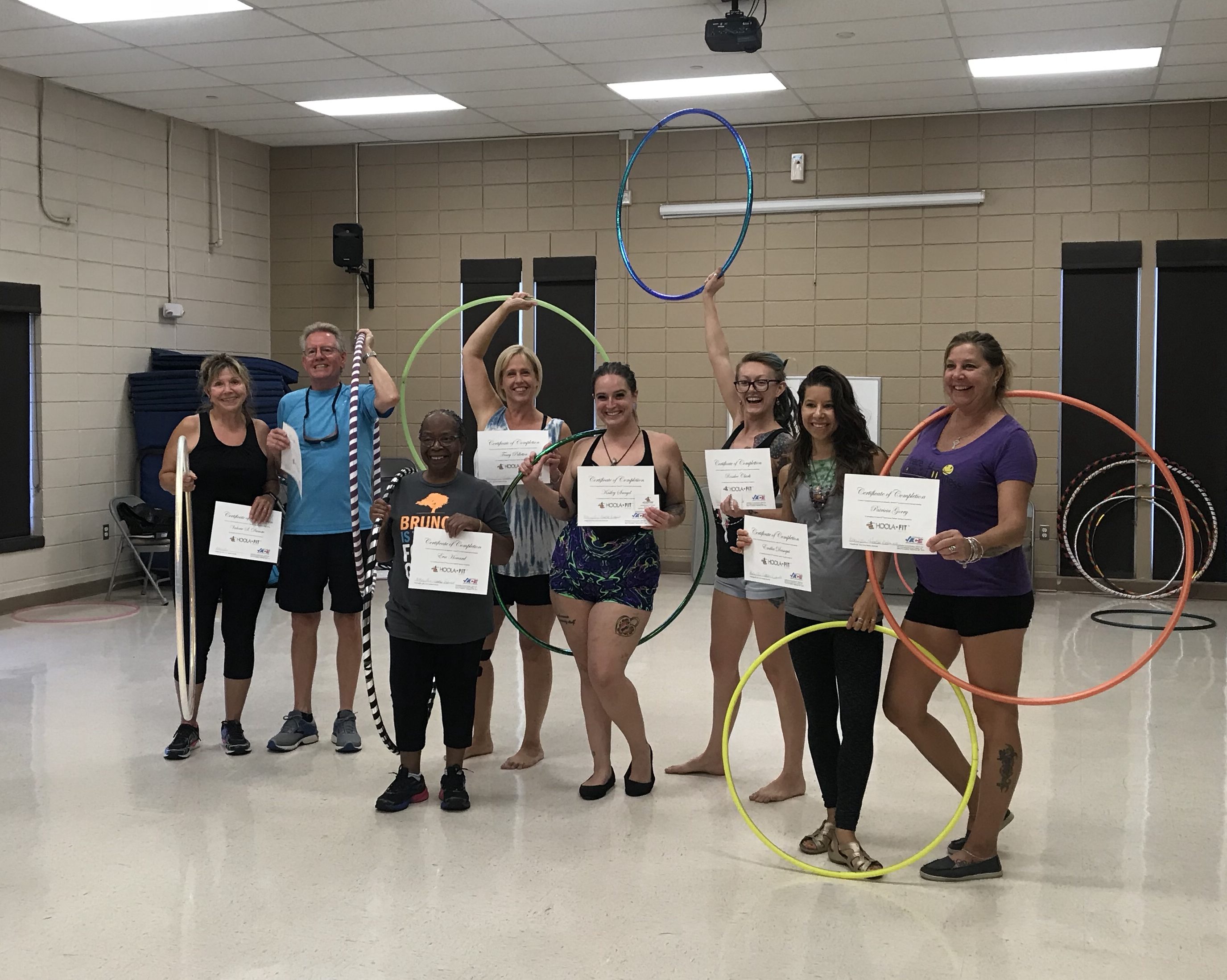 And of course, I need to express my appreciation for Heather: my right hand gal, master trainer and magic maker. I'm so grateful to work with her in co-facilitating these incredible training weekends. It still blows my mind when I reflect on her training, years ago, and I think about how far we've come. I'm so grateful to have her on my team.
A HUGE CONGRATS goes out to our beautiful new group of Hoola-Fit Teachers. Now go out there and INSPIRE, MOTIVATE and SPREAD JOY!
XOXO,
Abby
Hula Hoop Teacher Training Recap