Hi friends.  Abby here!
As we head into a Hoola-Fit training weekend, excitement is building and plans are underway.  We have an amazing group of people who are getting ready to embark on the journey of becoming hoop dance educators… including some who are traveling long distances to join us.
So, this week – we are going to keep the blog short and sweet, by sharing a brief recap and photo from Saturday's Rasa-Lila Fest along with a beautiful message sent to Cyrena, from one of her students…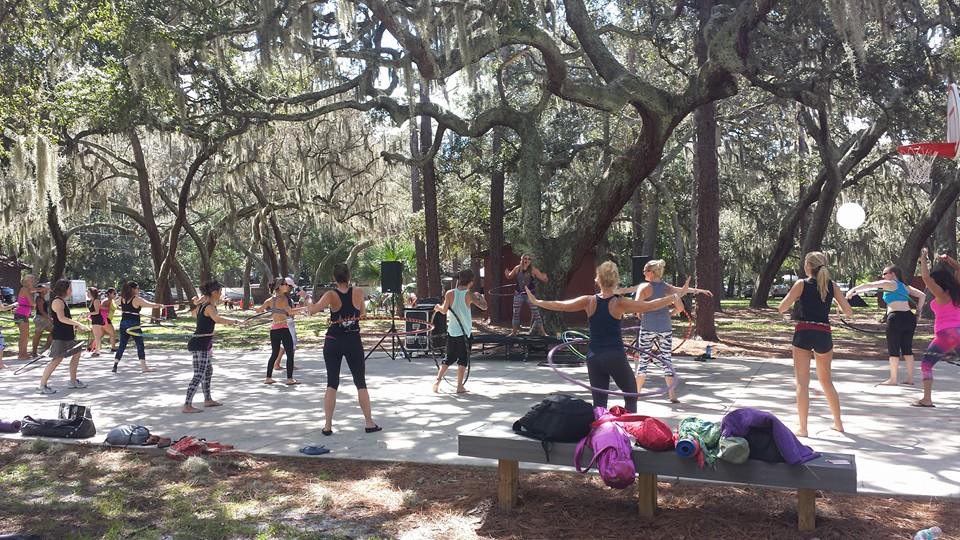 Rasa-Lila means "divine play" in sanskrit, and Rasa Lila Yoga Festival is an event that we look forward to each and every year.  I got to teach my workshop under the mossy oak trees, to a group of enthusiastic yogis.  The weather was beautiful, music filled the air, and there were smiles all around. Inspiring new hoopers is one of my favorite things in the world.  I love turning "I can't" into "I can!"  The majority of the class had never hoop danced before, and many reported back that they were surprised at how well they did.  Large, handmade hoops and some basic instruction makes all the difference, and I was grateful to facilitate their breakthroughs.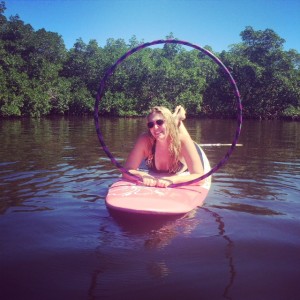 Afterwards, I was ready to cool off with some Stand Up Paddleboarding (it's my new addiction, and I had to bring my hoop, of course!).  Meditation, yoga, healthy food, drumming, and dancing followed.  We closed the event in style, with a fire show.  I performed alongside my beautiful Hoola Monsters team: Lilith, Cyrena, Salenna, and Sarah. It was the perfect day!
Fast forward to today:  I'm putting the final touches on plans for this weekend's training, and I'm about to head out to teach Hoola-Fit at Sunken Gardens.
But before I do, I'd like to share a sweet message that Cyrena received this week, from one of her hoop dance students:
Submitted by Crystal Dukate:
"I just wanna share a little story about my love for hooping because I'm bursting at the seams! I'm almost 31 years old. I was bored. I had nothing to do in my spare time. I had no passions, no hobbies. I despised exercising, and everything was starting to annoy me. It was depressing how unmotivated I was to do anything.  I was lazy.
My life was boring. I needed something to do soooooo badly before I… well… killed someone! hehehe (that's just a joke, in case Obama is monitoring this!)  I saw a lady at a pool party hooping and could NOT take my eyes off her. It was, literally, mesmerizing. My brain went off like a firecracker and I said "THAT'S WHAT I WANT TO DO!" I googled it, talked to people, and I was all over it!!!
I found Cyrena at Dragon Hooper and I can't even express how much she (and the hoop) have, honest to God, changed my entire life. It has made me more positive and happy about things in general. Seriously. I needed it so badly. The "hooping community" is filled with fantastic people with such great energy. Even if you aren't good at hooping – (I'm still totally a beginner myself) – they make you feel so good about what you're doing! The encouragement is unbelievable. The excitement you see from other hoopers when YOU learn a new move is so amazing that it makes you even more excited about what YOU are doing! I hope some new people will read this and realize what a wonderful thing hooping truly is! I just wanted to say a HUGE thank you to Cyrena for helping me find my passion that I so desperately needed and was searching for. I'm just happy. happy. happy." 
Well, I think that about sums it up. Hooping is truly "Divine Play."
Love,
Abby