Greetings, hoopers!  Abby here.
My mantra for this week is: "More Hoop Teachers, More Joy Spreaders."  That is exactly how I feel, after facilitating a Hoola-Fit training this past weekend at USF in Tampa.  We have just initiated a group of beautiful, motivational, ambitious joy spreaders into our tribe of licensed and certified Hoola-Fit instructors.
Congratulations to: Kathleen Butler, Catherine Byram, Marlys Hersey, Susan McClory, Nick Minton, Dawn Waltonbaugh, Erica Whiteman, and Michelle Whitley.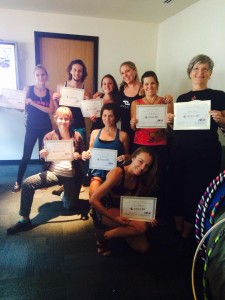 Kathleen is a Tallahassee-based Chiropractor and hoop maker who looks forward to teaching Hoola-Fit to seniors.  Catherine is a ray of sunshine who is excited about building her hoop community in Port St. Lucy.  Marlys traveled all the way from Texas to join us, and she's already rocking her local community with hoop dance.  Now, she's on a mission to take her students to the next level, with this certification under her belt.
Susan was bit by the hooping bug and has been ON FIRE ever since.  It was beautiful to watch her step into her power as a hoop dance educator. I have no doubt that she will excel in her new role.  Next up: Nick.  Our FIRST MALE HOOLA-FIT INSTRUCTOR!!! Can you tell I'm excited?!?!  Nick is full of positive energy, and his wheels are always turning.  He's constantly thinking outside the box and seeking out new and interesting movement ideas.  Orlando, get ready.  Nick Minton has arrived.
Dawn is a Brooksville-based yoga teacher, belly dancer, and hoop lover.  Oh yea, she's a University Professor too!  One of her greatest passions is working with kids, and her playful nature shines when she's teaching.
Erica was a little shy and reserved during the first day of our training.  And then we gave her a microphone…  She raised the energy in that room like nobody's business!  To say that she did a great job would be a vast understatement.  This woman was meant to share her passion for hooping, and she's a fantastic teacher.
Last but certainly not least… we've got Michelle Whitley.  Yes, THE Michelle Whitley of Hooplah Fun & Fitness.  She's a pillar in the Tampa/ St. Pete/ Clearwater hoop community and has been a full time hoop dance instructor for 5 years.  It was an honor to have her join us.  Michelle knows her stuff. Plain and simple.  Her greatest passion is working with kids, and I'm on a mission to have her by my side when we roll out Hoola-Fit Kids (how's that for a teaser ;)?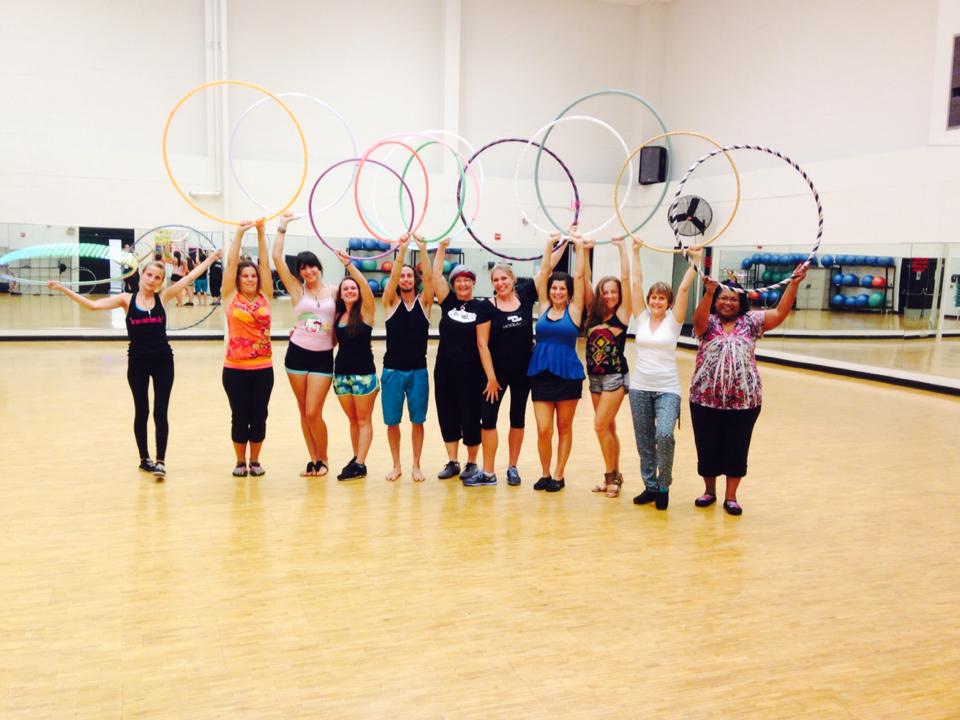 Last but certainly not least, I have a few acknowledgements. Big thanks goes out to my right hand woman and SUPERSTAR, Sarah Christine!  She's a Hoola-Fit "master trainer" to-be, and she helped out with the training tremendously.
Dorshae Bradley was a student in our very first Hoola-Fit training, and she's been pitching in ever since.  Dorshae supported the USF/ TAMPA event with photography, videography, set up/ break down, food runs, encouragement and by simply being an amazing human being.
Last but certainly not least:  Casandra Tannenbaum: My partner in crime.  Without her contributions to the Hoola-Fit program, these trainings wouldn't be possible.
So, I'm closing this week's blog with so much love and gratitude.  Onward and upward we go… inspiring, delighting and motivating people to live happier, healthier lives through the art of hoop dance.
Until next time (which will be Friday – because we have a big announcement coming ;)…. Happy Hooping!
Abby
More Hoop Teachers, More Joy Spreaders