This hula hooping weight loss story is pretty amazing! They say a picture is worth a thousand words, so we'll let these photos do the talking:
Heather's hula hooping weight loss story is incredible. It began 5 years ago when she sought out fun ways to connect with her then pre-teen daughter, Hannah. Hannah was a natural at hooping and was eager to teach Heather everything she knew.  The duo looked forward to exploring new hoop moves together, and they grew closer as a result.
In addition to bonding with her daughter, Heather started to notice other positive changes taking place.  Her transformation was slow and steady at first, and she didn't fully realize how much of an impact hooping would soon have on her health, happiness, well-being and even her bank account!
Heather's life was changing in a major way…
"Hula hooping was offering me much more than I could have ever imagined. I worked through an addiction, financial hardship, stress, stress, and more stress…  Through hooping, I found my true self (and a much leaner version at that)!
I spread the "Hoopiness" for about 3 years anywhere, anyhow.  If people wanted to know more about my newfound passion and my hula hooping weight loss, I could't wait to share information with them.  As I became more serious about my practice, I knew deep down that hooping was to be my new life path.  It became my form of meditation, or flow, and this "mindful movement practice" was transcending into all areas of my life.
So, I set my intentions, and I learned as much as I could about hoop fitness and the emerging art form known as hoop dance.  I was fortunate to discover that Abby Albaum from Hoola Monsters was also based in Florida and was offering a hoop dance teacher training program.  So, I eagerly signed up for Hoola-Fit in April of 2012.
That weekend training was so powerful, and it far exceeded my expectations. I came home and on the Monday following my certification, I proudly launched my sweet little business:  Peace, Love, & Hoopiness Hoop Fitness LLC.
I now reach more than 60 people a week. I have 5 active classes running and continue to be inspired by and through this "hula hoop."  My 90-pound weight loss was really just a side effect of the real work that was happening on the inside."
– Heather Leopold Kirkendall
Heather's inspirational story of hula hooping weight loss, family connection and business success is nothing short of spectacular.  She's pretty modest about her 90 lb. weight loss and successful hoop biz, so we're going to take the liberty of bragging for her…
Heather's weekly classes are all SOLD OUT, and that's no coincidence.  She's an incredible instructor and community builder who is living proof that you can turn your passion into a thriving, heart-centered business.  She's created a lucrative hoop dance company that inspires people to live happier, healthier lives, and Heather's warm, caring nature shines through in every class that she teaches.
Take a look at this video, and you'll see what I mean (You can literally hear the joy in her voice when she interacts with her students):

And speaking of students, here's what one of Heather's had to say about her recent experience:
"Thank you so much for inviting me to hoop class tonight.  As a person with multiple sclerosis and lover of hooping, I just wanted to express my gratitude. I'm a fan of how  you work with people.  I made new friends in your class, and it was so great to see people laugh, smile and work at the hoop until they got it.  Your passion is infectious.  I have to say, I was touched by the one lady who first had trouble hooping on her waist (due to balance and her fear of a falling hoop).  And by the end of class, you had her leg hooping and she was so successful!  I will go to bed thinking of that tonight… it was so inspirational to witness!  Thanks for sharing your passion and introducing me to new people."
– Amy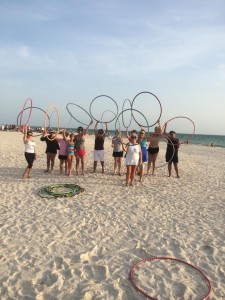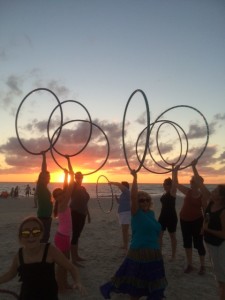 Well, that about covers it for this week's blog.  We hope you're as inspired by Heather as we are…
Until next time,
HAPPY HOOPING!
Heather's Hula Hooping Weight Loss