It's been a hot topic in the hooping community for quite some time… hula hoop teacher training programs. To be or not to be a certified hoop dance teacher… that is the question.
Some say hoopers don't need a certification to teach, stating that the hoop movement was born from hula hoop enthusiasts who just want to spread hoop love. Others argue that certification adds credibility, especially if the certifying entity is backed by a legit fitness organization like the American Council on Exercise or AFAA.
Before I dive into my position on this topic, let me first mention the hula hoop teacher training programs which currently exist (including my own)…

Here they are, along with brief descriptions pulled directly from the respective program websites, and in no particular order:
HoopYogini: It's led by Jocelyn Gordon: long-time hooper, lifelong dancer and yoga instructor. HoopYogini is an integration of hula hooping with Hatha yoga. The 200-hour online teacher training course is a "go at your own pace" experience perfect those who want the beautiful merging of hooping, meditation and yoga.
Hoola-Fit: The Hoola-Fit Teacher Training is an ACE-Approved health and fitness program incorporating mindful hoop dance movement with creative self expression. I (Abby Lee) co-created the program alongside Casandra Tanenbaum of Flow Fests (who also holds a Master's Degree in Education). Hoola-Fit is rooted in the fitness, education and hooping worlds. Designed to maximize the health and wellness benefits of modern day hoop dance, it's suitable for anyone who wants to learn how to teach a multi-level hooping class format, along with fitness pros seeking continuing education credits. The ACE approval also helps US-based instructors get into gyms and fitness centers to teach.
Hoop Love Coach Training: It's described as "a foundation for becoming a powerful, effective, and inspirational hoop dance teacher." Developed by Australia based HOOPLOVERS founder Deanne Love, it is filled with every insight, practical example, move and strategy she has cultivated while sharing the benefits of hoop dance with beginners and beyond around the world. It is designed to prepare you to teach hoop, build community, and gather abundance. Deanne has inspired thousands through her teachings, and she's created a massive online hooping community. She also has a background in education.
SaFire's Hoop Dance Teacher Training: Sandra began teaching hoop dance while completing her Bachelor of Education at the University of Lethbridge as a way to develop her skills as a teacher. Over the past 10 years, she's had the joy of teaching hooping to people of all ages, backgrounds, languages, and capabilities. Her course covers a range of topics, from how to write a lesson plan, structuring classes, engaging students, coming up with new activities and ideas to teach, picking out music, marketing classes, developing confidence, and more.
Hoop Revolution: I'm not sure if this training still exists, as I couldn't find a current website for the program. But if it does, then it's definitely one to check out. Anah Reichenbach is considered the mother of modern day hoop dance, and you'd be learning from an OG in the hooping world.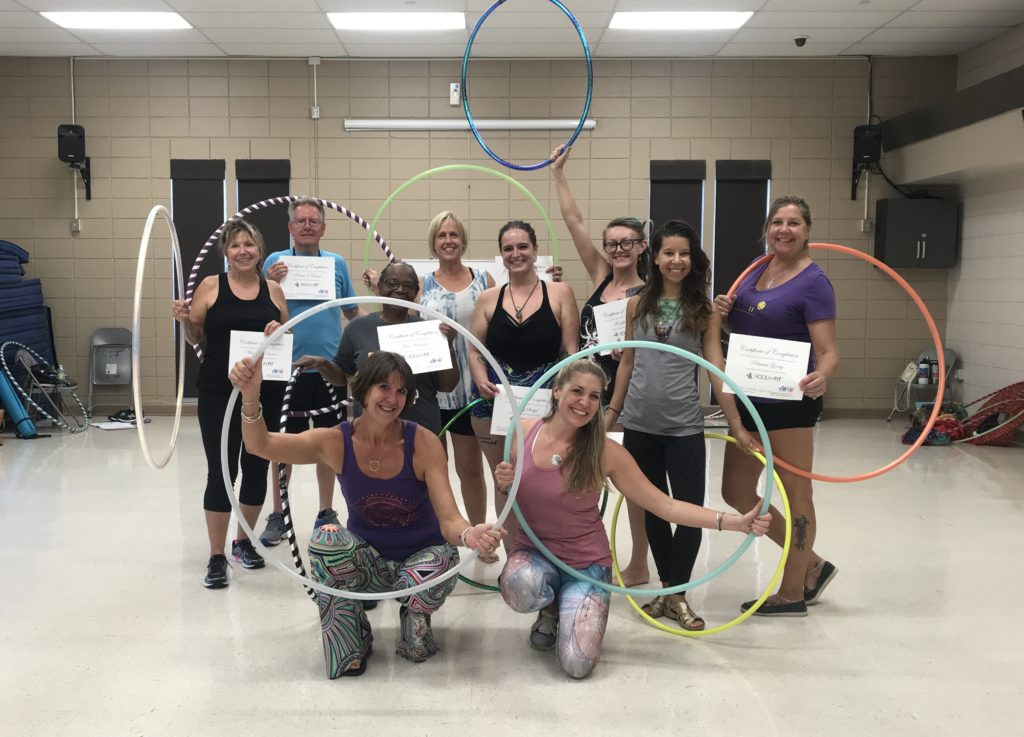 I haven't gone through the above-mentioned teacher trainings aside from my own. Reason being: The Hoola-Fit curriculum took YEARS to create, and I didn't want any of the content to be influenced by anyone else's program. With that said, I have had the opportunity to take hooping retreat workshops from every instructor mentioned above. And here's what I can say:
All of these hula hoop teacher training programs are led by badass, credible instructors. I'll go out on a limb and say that these teacher trainings wouldn't exist if they hadn't stemmed from a genuine passion for hooping and a strong desire to share the art form with others. Those of us who've created hula hoop teacher training programs have put a ton of time, energy, years of teaching experience, self-education, professional development, and loads of love into our course offerings. Simply put: Creating a hula hoop teacher training program is no easy feat.
We've also seen a number of programs come and go over the years (Hoopnotica, FXP, Body Hoops, and HoopGirl to name a few). Fun Side Note: Both Casandra and I became Licensed HoopGirl Workout Teachers in 2007, long before we created Hoola-Fit. Our program is an evolution of the HoopGirl Workout by Christabel Zamor. Hoola-Fit was released in 2012, with Christabel's blessing, soon after she retired from hooping.
Now for my essay on why I think a hula hooping certification IS necessary:
Does a first-time driver need Driver's Ed before getting behind the wheel? While it's physically possible to drive a car without the course, it's not advised. I believe the same is true for teaching any form of group fitness (hooping included).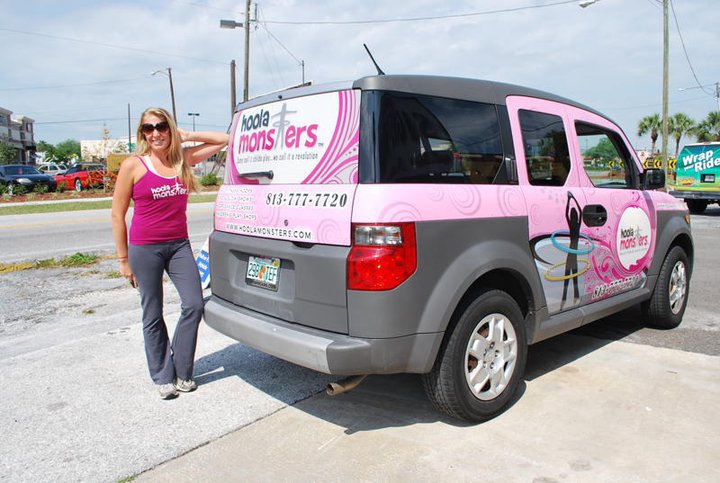 It's also best if you are certified in your specialty area. Having a basic understanding of injury prevention, safety precautions, different student learning styles, and structuring efficient class formats are fundamental components of being a responsible instructor. It's also worth mentioning that the majority of well-known exercise regimens offer teacher trainings. And maybe you've already been though one – in which case, you're likely more equipped to teach hooping than someone whose never been trained to teach group fitness at all. After successful completion of another program (like a 200-hour Yoga Teacher Training or AFAA personal training certification, for example), you should have a general understanding of how to lead safe and effective fitness classes. Is there still more to learn, in terms of hooping-specific instruction? Yes – a ton, actually, and this is one of the main reasons why we train hoop dance teachers.
Just because hoop dance is a relatively new, still-emerging art form doesn't mean that it's not important to be professional when we move into the realm of teaching. It's one thing if you're sharing hoop tricks for free in a park with family and friends. It's another thing entirely when you enter a group fitness room and ask students to pay for your instruction. When that happens, you've stepped into the role of a Group Fitness Professional, and you are now responsible for providing a safe and effective experience for your participants… not to mention the liability that comes with this, too.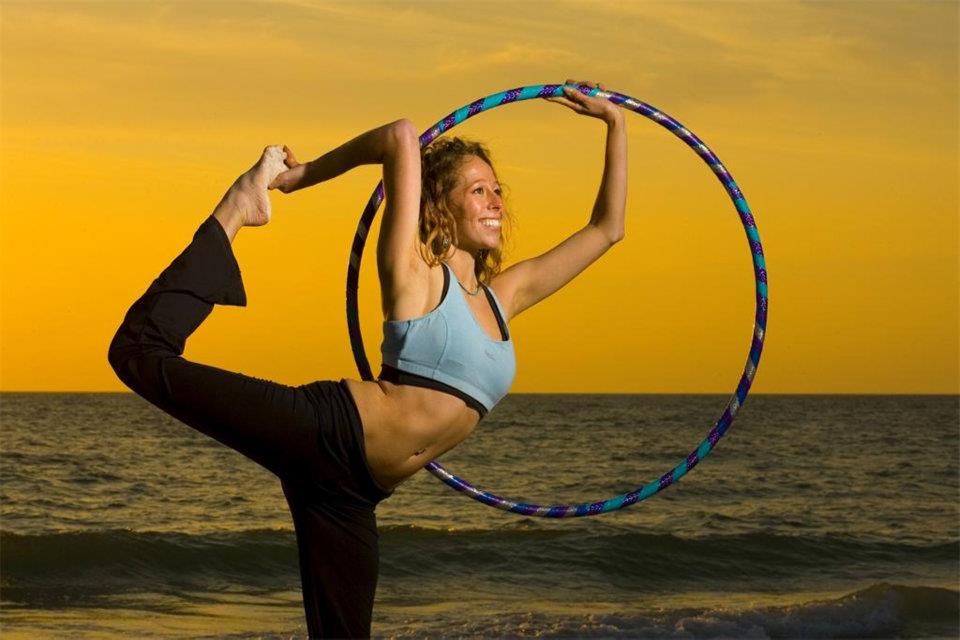 Think of it this way: Would you prefer to sign up for hooping classes from someone who's been through a credible teacher training program led by veteran, established leaders in the hoop community or from someone who's never been trained to teach? I believe that teaching is just as much of an art as hooping itself. There's a flow to it, and there's A LOT to learn. I know this might sound harsh: but just because you're a great hooper doesn't necessarily mean you'll be a great instructor without some fundamental teacher training.
Being backed by a credible fitness organization like ACE, AFAA or IDEA also helps to legitimize hooping in the fitness industry. ACE is considered "the authority on fitness." It's also the organization which helped hooping gain credibility after conducting this comprehensive study about the health benefits of modern day hoop dance. The study was also a game changer for hoop dance teachers because it enabled us to legitimize the fitness benefits of hooping with research by doctors and fitness pros. For this reason, we didn't release Hoola-Fit to the community until we met ACE's high standards and received their stamp of approval. They backed our art form, so we wanted to be backed by them.

Hoola-Fit is an ACE continuing education provider which means that fitness pros can go through the Hoola-Fit Training for credits towards their ACE Certifications. We've successfully petitioned for AFAA credits, too.

I should also mention that this is the reason why Hoola-Fit charges a licensing fee. I know that some programs use the "no annual licensing fee" as a selling point, but we do have this fee because there are different standards and costs that we incur by being ACE approved. Speaking of cost, when choosing a hula hooping certification, you should also consider the duration and complexity of the training. Naturally, HoopYogini is going to charge more than a weekend training, since it's a 200-hour program.
At Hoola-Fit, we also practice what we preach. All Master Trainers (those who lead the teacher trainings) must also be ACE Certified in either Group Fitness or Personal Training. In other words, we are constantly continuing our own fitness education, in order to maintain our certifications and keep the Hoola-Fit program in ACE-Approved standing.
Ok, I swear I didn't mean to make this an advertisement for Hoola-Fit – and I'll wrap up my article with this final thought:
As hooping grows and evolves, I believe that teacher training programs and certifications will become increasingly important. I don't think these certification programs are "one size fits all," either. If you're still reading this, I imagine you're a passionate hooper who wants to share this powerful mind/ body/ spirit practice on a much broader scale. The first step is to get clear on your teaching goals and aspirations. Then, actively research and consider all of the programs available. In doing so, you'll discover the training that will best support your passion for hooping in the most authentic way. I should also mention that we've had many trainees come through our program who've completed multiple hoop dance teacher trainings. I'm a firm believer in the power of professional development and continuing education. There's always more to learn and ways to evolve when it comes to teaching.
Ultimately, modern day hoop dance has impacted our lives in a powerful way. For this reason, we want to bring hooping to more schools, gyms, fitness centers, dance studios and summer camps worldwide. In order to do this, we need more inspired hoop dance educators to push the art form forward. So, if you're someone who fits this description, then it might be worthwhile to take a closer look at hooping certifications. More hoop dance teachers = More joy spreaders.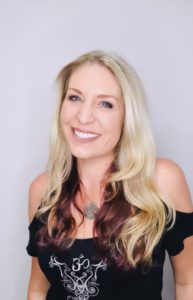 About the Author: Abby Joan Lee Abby is the founder of both Hoola-Fit and Hoola Monsters – Florida's first full service hoop dance company, which specializes in handmade fitness hoops, hoop dance classes and performances. A play professional and fitness pro for more than a decade, Abby is an ACE-Certified Youth Fitness Specialist and ACE-Certified Group Fitness Instructor who also holds certifications in Les Mills Body Combat and Cardio Kickboxing. A hoop dance educator since 2007, Abby has taught the art form to thousands of people of all ages. She's also spent years developing, testing and implementing her training programs. Her mission is to inspire and empower hoop dancers worldwide.
Hula Hoop Teacher Training: Is it Necessary?